Low-Slope & Flat Roofs
Castle Builders And Roofing, LLC, designs, installs and repairs various styles of low-slope roofs, also known as flat roofs. Whether you have interest in installing a new roof or replacing an existing system, we have you covered – literally. We offer a broad array of materials and top-tier products from some of the industry's best-known brands. If you are not sure what material is right for you, you can depend on our skilled team to help you find the perfect fit based on your preferences and price range.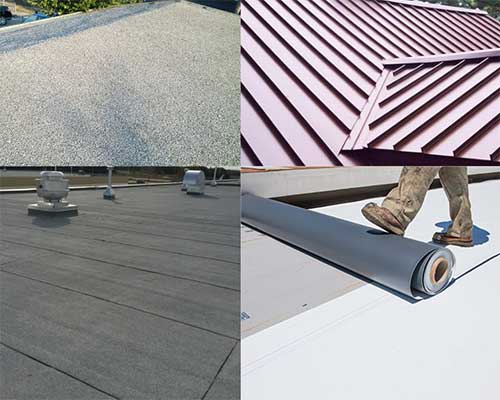 Types of Low-Slope & Flat Roofs
Metal
If metals were not durable and long-lasting, medieval warriors would not have used them to make weapons and armor. Metal roofs, which consist of stainless steel or aluminum, offer exceptional protection for your commercial assets. These systems are appropriate in both flat and inclined settings and have an estimated lifespan of 45 to 50 years. Thanks to a protective sealant applied at the edge of each seam, the panels are watertight, preventing leaks and improving building insulation. 
BUR, Tar & Gravel
BUR (built-up roofing) is a roofing system consisting of tar and gravel components, which can last 50 years or more. Its strength comes from the tar layers wedged between each sheet. A minimum of five layers will provide great insulation, weather protection and an airtight seal on the property. Depending on the climate, some roofers will recommend as many as 20 sandwiched layers. Our contractors at Castle Builders And Roofing, LLC, can also use asphalt as a substitute for tar, which is equally efficient.
Asphalt Roofs
As mentioned above, asphalt is a long-lasting material that can endure for more than 50 years. Roofing contractors typically use asphalt in hotels and industrial buildings because it is cost-effective and affordable to install, costing between $1 and $10 per square foot.
Two-Ply Modified Bitumen
Property owners with low-slope roofs can pick from three types of two-ply modified bitumen surfaces – smooth, mineral, or foil laminate. Two-ply modified bitumen contains a ceramic coating that provides airtight insulation and UV protection. These systems cost slightly more than some other commercial roofing types. However, they are low maintenance, rarely require repairs and can last 40 years or more.
Single-Ply Synthetic Membranes
Many roofing contractors recommend Thermoplastic Olefin (TPO), Polyvinyl Chloride (PVC) and Ethylene Propylene Diene Monomer (EPDM) as cost-effective materials for flat roofs on commercial roofing systems. These are simple to install, inexpensive and have a 30- to 50-year lifespan.
TPO and PVC roofs are particularly effective at blocking UV rays and improving energy efficiency. EPDM in colored variations can also block UV rays relatively effectively. Moreover, these products, which come from recycled materials, are eco-friendly.
Contact Us for a Free Commercial Roofing Estimate
If you have interest in learning more about the various options for low-slope or flat roofs, contact the commercial roofing contractors at Castle Builders And Roofing, LLC. You can do so in one of two convenient ways, by completing the contact request form or by calling (407) 417-2171.