Reinforce Your Low-Slope Roof With a Silicone Coating
A silicone roof coating, also known as silicone restoration membrane, is a liquid that a roofer sprays onto a structure using specialized equipment. The substance fills any blisters, cracks or seams to prevent them from expanding. While silicone roof coating is no substitute for insulation or underlayment, it provides an additional layer of protection against the elements.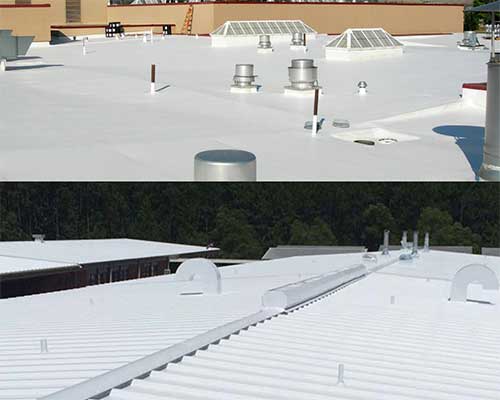 Many property owners with low-slope roofs choose silicone coatings to preserve their commercial roofing system and to extend its lifespan. Castle Builders And Roofing, LLC, is the expert team to trust for application of roof coatings.
Types of Roof Coatings
Roof coatings come in two varieties: acrylic and silicone. In certain climates and circumstances, both are beneficial. The following brief descriptions can help you decide which is preferable for your structure.
Acrylic
Acrylic roof coating represents the most cost-effective option, offering an excellent mix of performance and price. Because of its reflectiveness and UV resistance, acrylic is suitable for most climates. It is a simple material to install. However, its thickness diminishes with time, allowing moisture to infiltrate. 
Silicone
Silicone roof coating is ideal for structures that deal with standing water, including low-slope roofs. It weathers better than conventional roof coatings. A silicone roof coating has little to no erosion risk and will not become brittle or rigid. The downside of silicone is it loses its reflectiveness over time. Also, a roofer will need to periodically re-coat the structure with a similar silicone substance or completely remove the existing coating and apply a new coat.
Why Silicone Coating Is a Good Investment
Little to no erosion: Silicone roof coating is highly durable and can withstand the elements for a long time.
Low maintenance: When it comes to curing, a silicone roof coating does not require any additional precautions because moisture aids in the curing process. Most roofing contractors prefer to install it in high-humidity environments since, in some circumstances, it eliminates the need for primer.
Protects the structure from standing water: Low-slope roofs tend to develop puddles, which can cause erosion, leakage or seepage into the structure. Silicone roof coatings are extremely durable and will keep water in place until it drains or evaporates. This saves money and time as you will not need to enlist staff to remove standing water or to hire a roofer to repair water leaks or seepage.
Minimal preparation & installation costs: Silicone coatings are affordable to install. When applied on a dry and sturdy base, the silicone roof coating restoration membrane will save you a lot of money in the long term.
Extends roof lifespan: When applied to a low-slope roof in good condition, silicone coating can increase the roof's lifespan, saving you money on roof replacement.
Improves energy efficiency: Because of its reflective white hue, silicone roof coating is often referred to as a "cool roof". By reflecting the sun's rays and promoting a consistent, reasonable temperature, this coating can reduce a property's energy expenditure by 30 percent or more.
Speak to a Licensed Roofer Today
To learn more about the advantages of silicone coating for commercial roofing systems, reach out to arrange a free consultation and estimate. You can do so by submitting the contact request form or by calling Castle Builders And Roofing, LLC, at (407) 417-2171.